Okanagan Fisheries Signage Project
This important project is an awareness based signage initiative designed to inform and educate both anglers and the general boating public, about the fisheries in the Okanagan, the species of fish present in each body of water, native species (indigenous) vs non native species (invasive) and where to find and how to follow the regulations designed to conserve them. The program involves working with local municipalities to have specially designed fisheries signage installed at all of the 'big lake' boat launches across the Okanagan. We firmly believe that with increased awareness comes an understanding and respect for the local fisheries and ecosystems, and recognition of the importance of the fisheries to our local communities. Phase One of the project saw the installation of the signage on Okanagan Lake at the major boat launches in Kelowna at Sutherland Park, Water St (KYC), Cook Rd (Eldorado Hotel) and Cedar Creek Park. Over time and with the support of both our partners and local municipalities, we intend to see the signage installed at each and every Okanagan boat launch on every big lake from Osoyoos to Vernon.Our partners in this project are the Okanagan Nation Alliance (ONA), the Okanagan Salmon Community Initiative (OSCI) and the British Columbia Wildlife Federation (BCWF).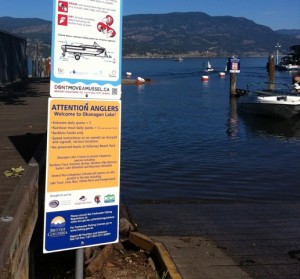 1
There is limited boat access on Okanagan Lake. Okanagan Fisheries Foundation installed signage this year at these public launches
Okanagan Fisheries Foundation needs your help in preserving and enhancing our local lakes and creeks in the Okanagan Watershed and Region 8. Through your support we can help improve our fish stocks and ecosystems for the generations to come.
The only way we can improve our local fisheries is to get directly involved. Our Government listens to groups in the community who are willing to put in the effort and act. You can be apart of this change through membership, donation or contribution of your time.